Instructions
To help you get started, we have a few instructions.
The tours are web-based and should require no plugins to run. From the home page, you can select a tour from the navigation menu or by clicking on one of the pulsing hotspots.
Once you are in a tour, you can look in all directions, zoom in and out, and navigate through the various scenes in a tour. When using a browser, clicking on the icons you find will either jump to another scene, give you information, show you a photo, or play a video. In VR mode, there will be a small cursor on the screen. Position that cursor over a navigation icon to move to the next screen.
On mobile devices, gyroscope mode is turned on by default so the display will follow the positioning of your device.
When you enter a tour, there will be a control icon at the bottom of your screen, which starts in the collapsed mode to save screen space.
Clicking on the controls icon will expand the controls and make the VR icon visible.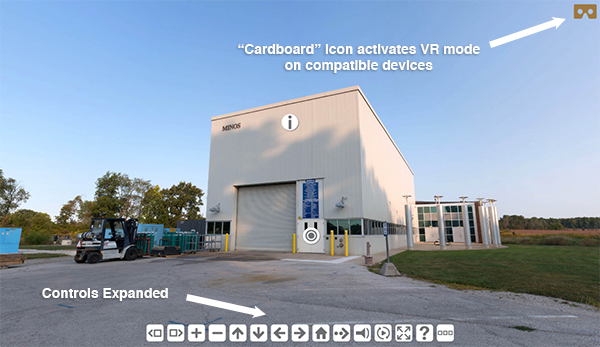 If you are in a tour and using a browser on a desktop, you can roll over most of the icons for a description of that icon's function.
Enjoy the tours!